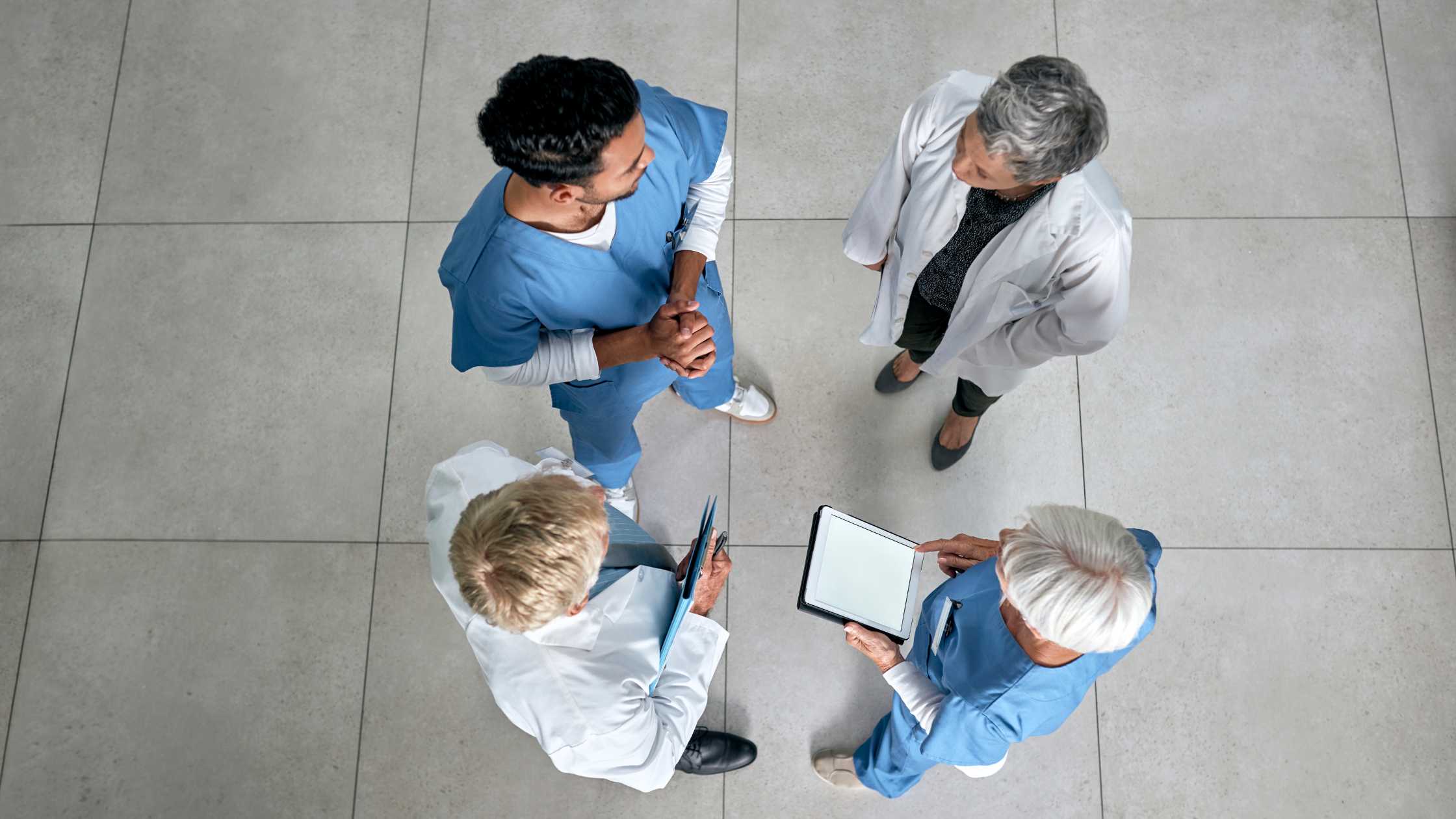 In the competitive field of healthcare, finding the right talent can be challenging. This is where healthcare recruiters come in. A healthcare recruiter is a professional who specializes in the recruitment and placement of healthcare workers across various industries and settings, such as hospitals, clinics, and nursing homes.
Healthcare recruiters play a critical role in ensuring that top-notch candidates are recruited and placed in appropriate roles. They help healthcare organizations find the best talent by identifying qualified individuals for open positions, assessing their qualifications and skills, and matching them with the right job opportunities.
The healthcare recruiting process typically involves identifying current and future staffing needs, creating job descriptions and advertisements, sourcing and screening candidates, conducting interviews, and making job offers. Healthcare recruiters work closely with human resources departments to ensure compliance with local and federal labor laws and to manage onboarding processes effectively.
How to Become a Healthcare Recruiter
1. Education and Experience
Many healthcare recruiters have a bachelor's or master's degree in healthcare administration, human resources, business administration, psychology, or a related field. A degree program may offer courses in personnel management, organizational behavior, employee training, and healthcare policy.

Candidates can gain practical experience through internship programs or entry-level positions in human resources or healthcare. Additionally, some healthcare recruiters have previous experience working in healthcare, such as clinical positions, administrative roles, or nursing positions.

While there are no specific education requirements for healthcare recruiters, most employers prefer candidates with a four-year college degree or equivalent experience.

A master's degree or certification in healthcare administration, human resources, or a related field can enhance a healthcare recruiter's qualifications. The National Association for Health Care Recruitment (NAHCR) offers the Certified Health Care Recruiter (CHCR) credential. The certification requires a minimum of two years of healthcare recruitment experience, a qualifying exam, and ongoing professional development.

The healthcare industry and employment laws are constantly evolving, making it important for healthcare recruiters to stay informed on industry trends and regulations. Attending conferences, industry events, and continuing education courses can be beneficial for keeping up-to-date on healthcare recruitment best practices and maintaining a competitive edge in the industry.
Relevant job experience for a healthcare recruiter includes human resources, recruiting, or staffing experience in healthcare or a related industry. Candidates with experience in a clinical or administrative role in healthcare may also be competitive for healthcare recruiter positions. Additionally, healthcare recruiters must have excellent communication, sales, and organizational skills.
Transferable skills from other industries that can be beneficial for healthcare recruiters include sales, marketing, customer service, and project management. These skills can be leveraged to cultivate relationships with candidates, build networks, and effectively manage recruitment processes.
Opportunities for gaining experience in healthcare recruiting include internships, entry-level positions in human resources or recruiting, and volunteer positions in organizations such as hospitals or healthcare non-profits. Additionally, networking with healthcare recruiters and attending relevant industry events and conferences can provide valuable insight and connections. Some healthcare recruitment agencies offer development programs or apprenticeships for individuals interested in the field.
Communication Skills: Healthcare recruiters must have excellent communication skills as they interact with clients, candidates, and colleagues on a daily basis. They should be able to communicate effectively and professionally through both written and verbal means.
Listening and Persuading: To succeed as a healthcare recruiter, one must possess active listening skills to be able to address the concerns of both clients and candidates. Additionally, persuasive skills are crucial to attract potential candidates and clients.
Organizational Skills: With a multitude of job postings, resumes, and interviews to manage, healthcare recruiters must possess exceptional organizational skills. They need to prioritize workload, maintain proper documentation, and coordinate with candidates and clients effectively.
Time Management: Time-management skills are crucial for healthcare recruiters to ensure timely delivery of quality services to both clients and candidates. They must be able to prioritize tasks efficiently while remaining flexible to changes and maintaining a high level of productivity.
Attention to Detail: Recruiting candidates for the healthcare industry demands absolute accuracy and attention to detail. Healthcare recruiters must check, verify and validate candidates' credentials and qualifications to avoid recruitment of incompetents.
Marketing Skills: One of the essential skills required for healthcare recruiters is the ability to market and promote their job posting effectively. They should be capable of using job search platforms, social media, and other online resources to attract potential candidates.
Creating Job Postings: The ability to create compelling job postings is a crucial skill for healthcare recruiters. They should be able to use various multimedia channels to promote and distribute job postings effectively.
Attracting Candidates: Healthcare recruiters must have the necessary skills to filter through a large pool of candidates to identify those with the most relevant skills and experience. They should have a talent for identifying suitable candidates and using social media and other tools to attract them to job opportunities.
Relationship-Building Skills: Healthcare recruiters require strong interpersonal skills to establish healthy working relationships with clients and candidates. This is achieved by cultivating networks, attending industry events, providing valuable insights, and being responsive to queries and feedback.
Networking: Building a strong network with industry professionals is a crucial part of being a healthcare recruiter. It enables healthcare recruiters to stay informed about trends, and employment needs and facilitates moving candidates into different healthcare organizations.
Maintaining Partnerships: Maintaining professional relationships is not limited to candidates but also includes colleagues. By working collegially, healthcare recruiters can create mutually beneficial outcomes for the placement of candidates and long-term success.
Passion: A healthcare recruiter must have a passion for connecting top talent with organizations in need and helping candidates find jobs that align with their professional goals and aspirations.
Helping Others: The desire to help others is essential when working as a healthcare recruiter. Candidates often need guidance, support, and encouragement when searching for work, and healthcare recruiters should be committed to providing it.
Ethical: Healthcare recruiters should uphold high ethical standards in their work, treating all candidates and clients fairly and respectfully. They must maintain confidentiality and comply with applicable laws, regulations, and industry guidelines.
Honest Approach to Recruiting: Honesty is crucial in building trust with candidates and clients. Healthcare recruiters must be transparent throughout the recruitment process, providing accurate information about job requirements and expectations.
Positive Attitude: A positive attitude helps healthcare recruiters to stay motivated and foster positive relationships with candidates, clients, and colleagues. A positive attitude contributes to a healthy work environment, making it essential for healthcare recruiters.
Resilience in the face of challenges: Healthcare recruiters must be able to handle rejections, manage uncertainties, and exhibit resilience in the face of obstacles. This quality helps them overcome challenges that might arise in recruitment and deliver top-quality services to clients and candidates.
Ability to adapt to changing environments: With the ever-changing healthcare industry, recruiters need to be adaptable to new environments, trends, and technologies. They must embrace change and innovation to remain competitive and drive recruitment success.
Ability to Learn New Technologies: Healthcare recruiters need to stay up-to-date with new technologies and applications that impact the healthcare recruitment industry. They must continually seek out new knowledge and learning opportunities to leverage new tools for recruiting success.
3. Finding and Attracting Candidates
Healthcare recruiters can use several methods to source potential candidates, including job boards, social media platforms like LinkedIn, and candidate referrals. Job boards featuring nursing, healthcare, and medical professions can help healthcare recruiters find qualified candidates. Social media platforms can play a crucial role in recruiting since professional networking sites like LinkedIn provide an essential forum for advertising open positions and sourcing candidates. Candidate referrals offered by clients or healthcare employees can be an excellent source for pre-vetted talent.
Healthcare recruiters must prioritize diversity and inclusion when sourcing candidates to ensure equity and representation for all employees. As healthcare serves a broad demographic range, it is important for recruiters to establish recruitment practices that help them hire a diverse workforce to meet the needs of their clients. Diverse and inclusive teams typically have higher levels of job satisfaction and innovation, which results in better patient care.
Recruiters must consider the legal and ethical ramifications when recruiting candidates to avoid violating discrimination laws in healthcare recruitment. It is important to abide by applicable laws when advertising job postings, screening candidates, conducting interviews, and offering positions. Recruiters must avoid asking candidates questions that could be discriminatory under federal or state laws, including race, age, religion, sexual orientation or disability. They should also be aware of immigration regulations and ensure that candidates' visa status is properly validated before proceeding. By avoiding such potential legal pitfalls, recruiters can develop candid and effective recruiting strategies that comply with the legal requirements of healthcare recruitment.
Healthcare recruiters must create a compelling and engaging job post that accurately reflects the job's responsibilities and qualifications. A job posting that highlights specific qualifications, experience, and job requirements can help attract the right candidates. Healthcare recruiters should focus on the job description's clarity and the requirements' specificity, avoiding ambiguous or misleading information that may result in irrelevant applications.
Effective employer branding is crucial in attracting candidates and increasing appeal. Healthcare recruiters should focus on branding the company as a desirable place to work by highlighting the company's mission, values, and culture. They should develop strategies that emphasize the company's strengths while also offering insight into growth and personal development opportunities.
Making a good first impression on potential candidates can significantly improve the chances of them applying for a position. Healthcare recruiters should maintain professionalism and be courteous throughout the recruitment process. They should prioritize prompt communication of information and feedback, giving candidates a realistic impression of what working in the company entails. Providing a candidate-friendly recruitment experience enables forward-thinking recruiters to stand out from the competition and attract top talent to healthcare organizations.
4. Interviewing and Hiring
There are different types of interviews that healthcare recruiters can use to assess candidates, including phone screenings, video interviews, and in-person interviews. Phone screenings can help assess qualifications and ensure that candidates are a good fit for the position before proceeding to the next stages of recruitment. Video interviews are valuable for assessing candidate communication and presentation skills, while in-person interviews offer an opportunity to assess the candidate's professionalism, expertise, and behavior.
To execute an effective interview, healthcare recruiters should prepare a list of questions beforehand that is tailored to the job description and the required skills for the position. They should also assess the candidate's behavioral and communication skills to ensure compatibility with the organization's culture. They should also establish rapport by providing an overview of the company and outlining the interview process to help candidates feel at ease.
Avoiding common mistakes in the interview process is crucial for preventing poor hiring decisions. Some of the common mistakes made in the interview process include not taking enough notes, failing to avoid distractions, and making hiring decisions based on personal biases. Healthcare recruiters should also avoid asking questions that may be discriminatory or that reveal personal information irrelevant to job performance.
By being aware of different interview types, preparing targeted and relevant interview questions, and avoiding common mistakes, healthcare recruiters can conduct successful interviews and make better hiring decisions that align with organizational goals.
When making hiring decisions in healthcare recruitment, recruiters must consider various factors beyond the candidate's qualifications and experience, such as cultural fit, soft skills, and potential for growth. Assessing candidate compatibility within the facility or team is crucial as it ensures the new employee can integrate into the existing team effectively. The candidate's potential for career growth should also be considered as it promotes employee retention, allowing for long-term contributions to the healthcare organization's success.
As a healthcare recruiter, conducting background checks and verifying candidates' credentials is essential to avoid legal and certification-related issues. Basic background checks should include screening for criminal records or substance abuse and verifying educational qualifications, employment history, and licensure. Credential verification ensures that candidates possess the necessary license, certification, or registration, required by state and national regulatory bodies.
Working collaboratively with hiring managers is crucial when making hiring decisions. Hiring managers have specific knowledge about the job and organization, providing valuable insights that recruiters may not possess. They can assist in conducting interviews, evaluating candidates, and ultimately making sound hiring decisions. Additionally, healthcare recruiters must communicate effectively with other stakeholders, such as HR professionals, legal departments, and third-party recruiters, who can facilitate recruitment within complex hiring environments.
By considering essential factors, conducting thorough background checks, and leveraging expert opinions from hiring managers and stakeholders, healthcare recruiters can make informed hiring decisions that benefit their clients, assist candidates' careers, and ensure the growth of the healthcare industry.
Healthcare recruiters play a critical role in ensuring the success of healthcare organizations. They require a specific skill set that includes effective communication, organization, and relationship-building skills. They must also be well-versed in recruitment strategies and legal considerations to source, attract, and interview top talent for healthcare roles. Once recruited, healthcare recruiters must consider various factors when evaluating candidates to ensure they are making informed hiring decisions that benefit both the organization and the candidate.
To those interested in pursuing a career in healthcare recruitment, we encourage you to develop your skill set in this field. Consider taking courses or workshops to build the required skills, networking with healthcare professionals, and keeping abreast of trends in healthcare recruitment. Pursuing a career in healthcare recruitment can be a rewarding experience, enabling you to connect top healthcare talent with leading organizations in the industry.
If you are interested in learning more about healthcare recruitment, you can check our resources. Additionally, many organizations offer mentorship programs that can provide valuable insights into the recruitment process.
We hope that this article provided valuable insights into the skills, strategies, and legal considerations required for working in healthcare recruitment. We encourage you to take action and explore the world of healthcare recruitment and take advantage of the many opportunities available.